Your kitchen cabinet fronts are the face of your kitchen, showing off your own personal sense of style. When your kitchen needs a refresh, you can even think about replacing only the kitchen cabinet doors without having a full overhaul. But what cabinet door styles should you be looking at for a modern and welcoming kitchen? We've picked out 10 of the best kitchen cabinet door looks we expect to see more of in 2021.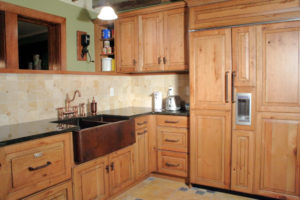 Overlay Cabinet Styles
Overlay and inset are the two main door styles to look out for when choosing your kitchen cabinets. An overlay means the door covers the frame of the cabinet rather than fitting inside it. Partial overlay means some of the cabinet frames might be visible. A twin overlay is where two cabinet doors work together to cover a frame. Full overlay means every door completely hides the frame of the cabinet beneath. Many modern kitchens veer towards full overlay as it can give a cleaner and more minimalist look.
Inset Cabinet Styles
If you prefer a more traditional kitchen style, you may like an inset-style cabinet door. With inset doors, the door sits neatly inside the cabinet's frame, echoing the styling of a standard house door. Inset doors often have raised or recessed panels, which we'll cover in more detail below.
Shaker Style Cabinet Doors
Shaker-style kitchen cabinets are popular because of their timeless style. The doors tend to have recessed central panels and may either be inset or have a partial overlay. It's a very simple style, yet one that, thanks to its clean lines and versatility, repeatedly appears in interior design magazines and shows. Shaker cabinets come in a range of colors and materials, so there's plenty of choices here.
Wooden Cabinet Doors With Windows
Vintage never goes out of style. Explore nostalgia with natural wood tones, visible grain, and clear glass panels to showcase your excellent taste in crockery or glassware. Plus, you'll never have to explain to guests where the coffee cups are again.
Raised Panel Cabinet Door
Another traditional look for your kitchen that's sure to be a big hit in 2021 is the raised panel cabinet. The center of each cabinet door has a panel, often square or rectangular, but sometimes more ornate. That panel is raised from the base of the wood, giving texture and detail. The panel may have edges with an ornate design. Raised panel doors may have beading for added interest.
Recessed Panel Cabinet Door
Recessed panel doors are essentially the opposite of raised panel doors. The door's edge is deliberately higher than the center as if the center has been pushed in, normally in an approximately rectangular shape. Expect to see recessed panels in your more contemporary kitchens, often paired with modern materials and sharp, clean lines.
Slab Style Kitchen Cabinet Doors
Slab cabinet doors are frameless and flat, ideal for a minimalist kitchen where you want no fussy distractions. Slabs can come in just about any material, from smooth, natural woods like hard-wearing maple, to copper or silver finishes for a bit of extra shine. The flat surface makes them very easy to clean and maintain, making them an obvious choice for anyone who is at home much of the time or who makes regular use of their kitchen. Slab doors can be fitted with a range of handles or even without handles to maximize the sense of minimalism. Black kitchen cabinets
Glossy Lacquered Kitchen Cabinets
Hide your cooking ingredients and crockery behind a smooth wall of highly finished glossy lacquer. Gloss cabinets reflect light back into a room, creating an impression of space and allowing you to be more conservative with your lighting – which can even be an energy-saving option. Gloss coatings are often particularly durable and resistant to dirt, making them the obvious choice for one of the cleanest rooms in the home. Shiny gloss cabinets match well with built-in appliances or glass cabinets – you can mix and match depending on the amount of shine or light you want in your kitchen. Go handle-free for a seamless finish – just like in PEDINI's sophisticated Dune Kitchen range.
Louvered Cabinets Doors
If you love the sleepy stylings of horizontal blinds, then you'll love louvered doors. They incorporate multiple horizontal slats into a fixed frame, making them sturdy, attractive, and a quirky change from the usually flat or paneled doors. There are two main types of louvered kitchen cabinets: open and closed. Open louvered cabinets have a noticeable gap between the slats, which can be practical for airflow, plus it gives a different aesthetic. Closed louvered cabinets pack the slats tightly together.
Glass Kitchen Cabinet Doors
Show off your beautiful kitchen wares with transparent and easy-to-clean glass cabinet doors. Ideal for wall-mounted cabinets rather than floor level, especially if you have kids or pets. Ask PEDINI about the Eko Kitchen range and handle-free doors for a sleek and minimalist look for the most contemporary kitchen possible.
Whether you're looking for kitchen cabinet replacement doors or a whole new kitchen, talk to us at PEDINI Miami for the best advice on making the most out of your kitchen space – and making it look truly beautiful. 
Takeaway
Refresh your kitchen with new cabinet doors and kitchen cabinet accessories or your new kitchen with our style guide. Our ten best kitchen cabinets doors list includes shaker style, clear glass doors, and glossy lacquered doors for a truly modern finish.